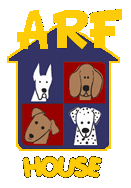 ADDITIONALLY

Come visit us the 4th Saturday of each Month
at the following location:

PetSmart
Prosper, Texas
1001 S. Preston Road
Prosper, Texas 75078
Eddie is one of our disabled dogs who will stay at ARFhouse for the remainder of his life. Eddie came from the Mt. Pleasant Animal Shelter, a kill shelter. The employees at the shelter loved Eddie so much, they contacted us to see if we would take him and give him a chance at a nice life. Eddie now runs loose on the property, playing with friends, swimming in the pond and chasing squirrels. He is two French fries short of a Happy Meal but with a personality like his, who cares?! He is the type of dog you fall in love with immediately and he has certainly made a lifelong impression on all of us here at ARF. If you like big, lovable goofballs, Eddie is the Pal for you!