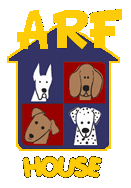 ADDITIONALLY

Come visit us the 4th Saturday of each Month
at the following location:

PetSmart
Prosper, Texas
1001 S. Preston Road
Prosper, Texas 75078
This cool cat has got personality to burn. Toby is one of five pups who were dumped along with their mother on our road. An employee who lives on-site walked out of her house one morning to find six small dogs in her yard. That'll wake you up quicker than coffee! Toby was the only one of the six to come right up and was very easy to catch; it took about an hour to catch the remaining five. Because of his silly personality, he was quick to become a favorite here at ARFhouse, and now runs look on the property. Toby likes to spend most of his days swimming in the pond, chasing squirrels and riding around on our golf carts as we work. Toby is like that cool kid at school and, while he has many friends here at ARF, he is looking for a Pal of his own.