ADDITIONALLY

Come visit us the 4th Saturday of each Month
at the following location:

PetSmart
Prosper, Texas
1001 S. Preston Road
Prosper, Texas 75078
About Us:

ARFhouse (Animal Refuge Foundation) is a no-kill, care-for-life canine sanctuary, caring for 350 dogs at any given time. Located on 45 acres in North Texas, ARFhouse provides plenty of space for all its residents to live and play, and hopefully find their forever homes. ARFhouse is a Texas non-profit corporation, and received the 501(c)3 determination letter from the IRS in 1992.

Being in a rural area has advantages; the dogs have plenty of space; even those in yards, since the yards are big. Many of them get to swim in the pond. Also, we never get complaints about barking. The downside has been that it took several years for people to learn about our facility and begin to contact us to adopt a dog. Adopters frequently drive the 70 miles from the Dallas/Ft. Worth area when they see a dog on PetFinder they want. As we've become more visible, many contributors now come to us for a dog. With help from our volunteers and our relationship with PetSmart, we are able to place 5-10 dogs monthly through our adoption program. When one dog is adopted, there is always one waiting to take his/her place here at ARFhouse.
Hangin' out by the swimming hole
with a few friends.
The welcoming committee.
ARFhouse's Operations Manager,
Sammie Kershaw, with two of
the young dogs of ARFhouse.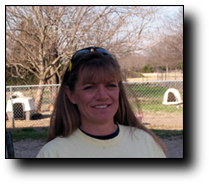 Martha
Founder
Sammie
Operations Manager
Meet the Staff
(Click on any picture for their Bio.)
Roxanne
LeAnn
Diana
Our Welcoming Committee
ARFhouse accepts some surrendered animals, but we must reserve most of our precious space for the abandoned and abused dogs who come to us as strays or through the courts when animals are seized because of neglect or abuse. We pride ourselves that we accept the strays, regardless of age or breed. All the dogs are spayed or neutered and fully vaccinated. They receive any medical care that our veterinarian deems necessary. We euthanize only when suffering cannot be alleviated through medical care.

ARFhouse has nine paid staff, and five volunteers. Five staff members live on-site. The areas where dogs reside are all shaded with a dogloo for each and every dog. Every ARFhouse employee is an avid animal lover. At any time of the day, there's a dog being held, touched, and talked to by several employees. We believe this is very important, and something we must always make time to do.

Animal Refuge Foundation's governing documents and Form 990 are available upon request by writing:
Animal Refuge Foundation
3377 Spalding Rd., Sherman, TX 75092
Jenna
The Liz O'Brien Adoption Center is the perfect place to meet and greet people who are interested in adopting one of our dogs. It's a beautiful facility inside and out, and this picture doesn't do it justice.

Thank you Mike O'Brien and Lynn and Kathy Surls and friends!!!